Tis winter and a bit more work has been done to the shed. Apart from the snow, you can see the double glazed windows have been installed and a lot more of the log effect wooden lengths have been added.
The inside of the shed has a raised platform which is the, "Up Stairs Attic". This is to be turned into a storage area and a place to house the water tank for the shed. The wall facing the inside was cladded in pine and the entrance framed.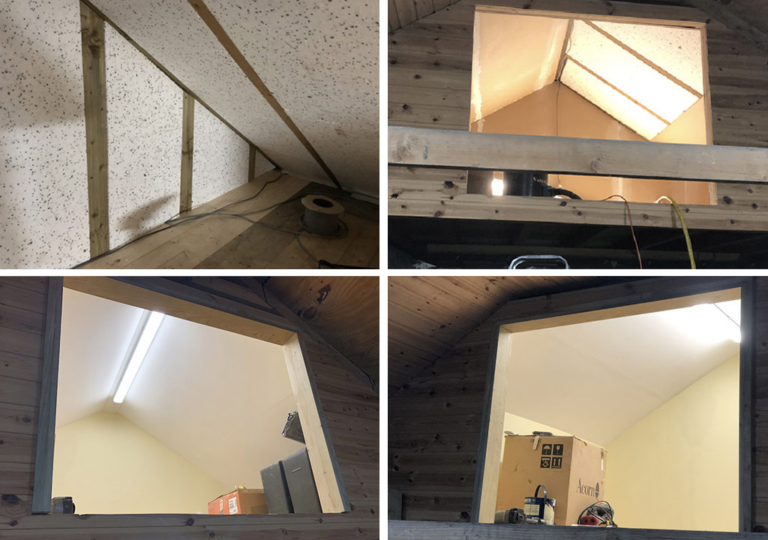 This area was fully insulated with 3″ polystyrene. This also helps with noise suppression to an extent. There's a 1″ air gap behind the insulation to help with air flow and hopefully prevent any dampness gathering.
A good solid tongue and groove flooring was laid down. This was needed because of the weight of a fully filled water tank. The tank will support the toilet and wash hand area.
Electrics installed next to allow the installation of a light and switch. Need to be able to find stuff.
Once complete the entire area was then boarded out and painted. As can be seen in the photos opposite, it has turned out nice and bright. Now to start filling that new found space with bits'n'bobs.
Next was to turn my attention to the main area of the shed. This will again be insulated with 3″ polystyrene in the walls and Rockwool noise suppression in the ceiling. This is covered in a damp barrier and finally 6″ x 1″ boards, shaped and nailed onto the walls.
Previously the only power was provided via an extension lead which was dragged around and whatever was needed plugged into it. This time round I wanted proper sockets added all around the main shed and the extension. This was provided via 2 ring circuits which provided plenty of sockets. This also allows me to isolate the main shed or the extension without having to cut power to the entire building in order to make changes down the line.
Two more storage areas were added along the front and back, new LED lighting added to help brighten the area, and also installed a number of coloured rope lights which should add a bit of party feeling if I ever manage to get everything sorted.
One issue in turning this into a games/entertainment area, is the lack of a proper workshop, so this will be a major project when the time comes, and also help to finally move all the tools to where they are supposed to be.