First road trip for the blog and this one is one I've been wanting to go on for some time. If anyone in the arcade community knows, the place marked in the sign above plays a great importance in arcade cab manufacturing for a very well known gaming company, but which.
Welcome To County Tipperary
So up early this morning, with a quick breakfast and a load of goodies to keep me sustained for a long trip. In fact, some people may think I'm totally mad for making this trip. It's travelling from Belfast in Northern Ireland in the East of the island, all the way over to Limerick in Southern Ireland, on the far West of the island. Just a tad over a 4 hour journey. So what's so important to warrant that sort of time. 
Well, it's to do with a bit of a pet project I'm working on, and a bunch or original, brand spanking, unused 17″ monitors. These aren't LED, LCD or plasma flat screen monitors we're talking about here, but a bunch of CRTs (Cathode Ray Tubes). You know how hard it can be to find those these days, and I don't trust the postal service to deliver such fragile items, not if past experience is to go by.
So first off, I'm looking just a couple of these screens for now, as a quick tester to see how they will fit the project, more of this at a later date. If successful, I'm looking to purchase a pallet load of him.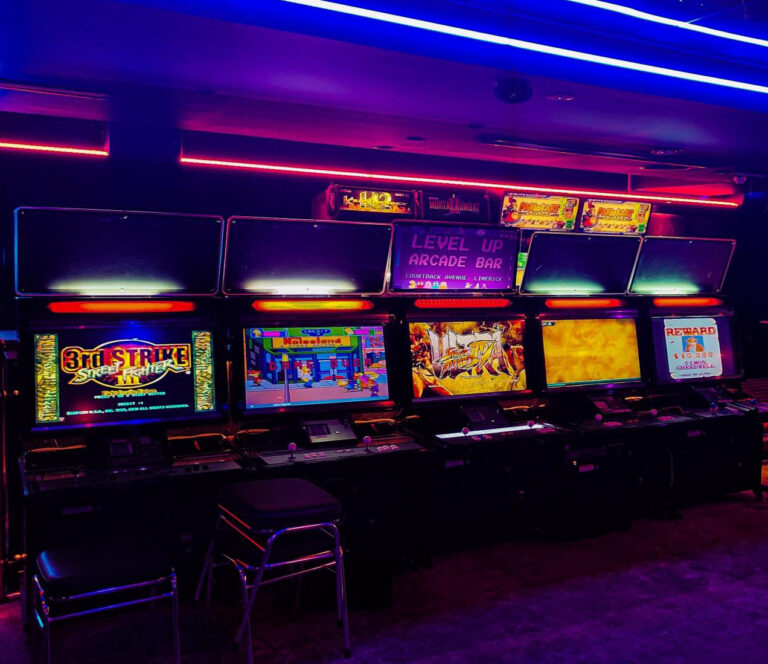 One of the niceties of this trip, is getting access to the LevelUp arcade bar in Limerick. Unfortunately the time when I'm visiting, the arcade isn't actually open, though the attached bar is, so only the 2 of us were in there and to be honest, like a lot of these places, you need the atmosphere to really appreciate the place to the full, but it was fully enjoyed. Also had a quick introduction of their plans for the future, but I'll leave that to the guys to tell you all, don't want to spoil anything.
Needless to say, the place was fantastic, and got a bit of an insight into the running of such a successful venue. Good luck guys for the future.
After a rather wet transfer, due to the heavy rain, of the CRTs from one car to another, in a rather dodgy looking transaction, I was all set to make the trip back up home, yet another 4 hour trip. As part of the trip I also managed to bag a Tri-Sync chassis, so will be exciting to see how that pans out as well. Been looking for one of these for a while now.
Well Known Gaming Company
So based on the main blog image, did you all manage to work out the world famous arcade gaming company that worked out of Tipperary and produced a whole slue of games right across Europe and Canada?
If you thought Nintendo, then you are totally wrong, lol. No, it was of course Atari. They started out here in 1978 in a manufacturing building provided by the Irish Development Authority, which Atari later purchased.
At its height, Atari Ireland was producing over 150 cabs a day, to be shipped right across Europe, and a number of cabs also made their way back across the ocean to Canada. Many of the Atari Ireland cabs you find in the United States were Canadian cabs.
Atari continued in Tipperary until 1995 when the whole place was sold to Midway, before eventually being sold again to Namco.
Today you can still see the factory, and the Namco name still stands on the wall at the front of the building.
Well that's it for now. Will talk about the project in a future blog post, so stay tuned and hopefully see where this leads.