Well, it's been a while since my last post regarding the workshop and the main reason was getting my back hurt and being out of action for a number of months. Nothing to do with the build, thankfully, but other reasons. At least there has been progress and now that I'm on the mend, hopefully this and the updates will progress quicker.
So last time I had managed to get the foundations done, stone for the flooring moved and started on the walls. This took and age to get laid down. It was four layers in height, allowing for the 4″ of stone, 4″ of floor insulation and 4″ of poured reinforced concrete. Once the outer walls were finished and measured for level, I was less than 5mm out from end to end, so really happy with that.
Next up was the central wall. Unfortunately there are no photos of this process due to the fact that my phone broke and was replaced and many of the photos taken on it was lost, typical.
Well let's, just say that there was an enormous effort put into it. Part of the central wall also includes a store room and boiler room.
The store room will be to hide the compressor, and hopefully with the thick walls and maybe some sound insulation, the noise will be kept to a minimum. The boiler house is obvious. It's for the water matter transformation device. Nope! It's for the heating system. A large workshop like this will really need some form of heating for the Autumn and Winter months.
As the central wall increased in height, there was a need for a stable platform to work from. Those blocks are HEAVY. So as can be seen from the photos below, a walkway was created. This helped a lot.
The walkway allowed for a number of blocks to be lifted securely up and a bucket of cement so there was less need to keep climbing ladders.
The framing went up fairly quickly along the back. The heavy posts are bolted to the walls as well as the footer plate, all sitting on a heavy damp proof course. This creates a very sturdy structure, especially when we reach the front of the building as this will be a lot taller due to the sloping roof.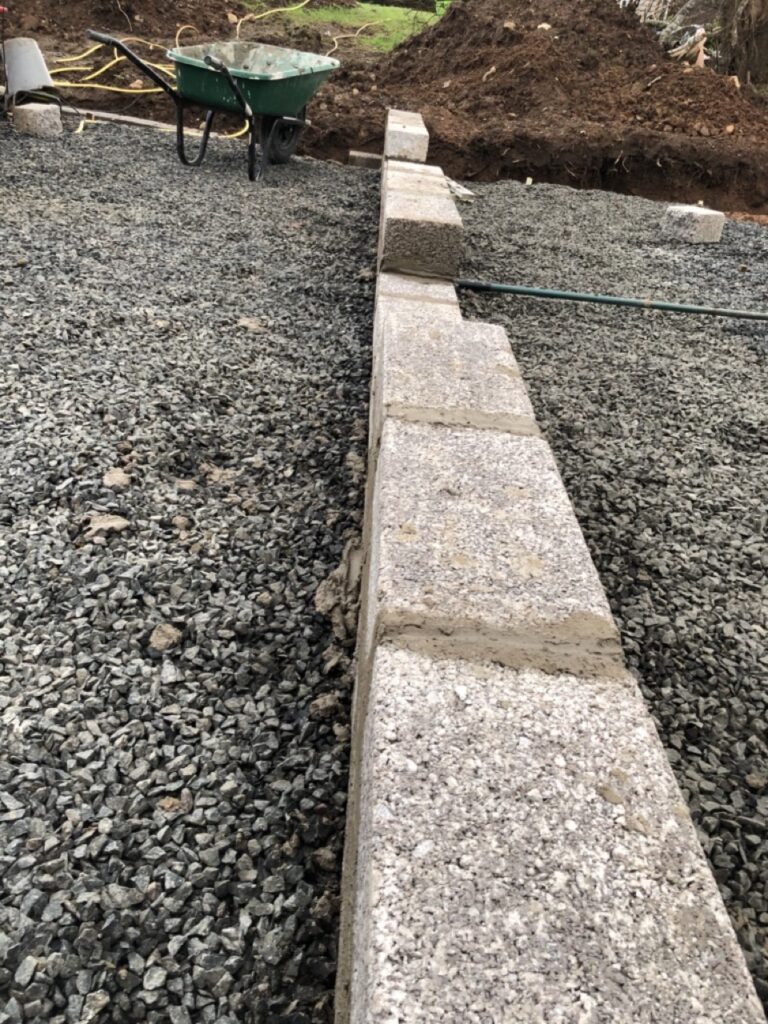 The roof beams on the smaller side of the workshop are now going in and will help support the side wall during construction. Next up will be the rest of the framing on that side and the second roof beam, and finally the rafters. Once complete we can see about boarding that section out with good heavy gauge 18mm plywood. The whole building will take over 2 bails of boards, so a lot more hauling in the future. I'd like to get the framing and the rest of the central wall completed by the end of this month.