So the good weather has managed to hold out for a few more days, and I've been out at the workshop with whatever time I can spare. Unfortunately you do need food and sleep from time to time.
As you can see, made good progress over the weekend. Most of the side panelling had been done, and managed to squeeze in a fair amount of the lower front framing. That main post in the front middle had to be tied back to the roof beams to help support it, but once the top plate and rafters go in, it'll be so much stronger.
Trying to get the 8′ x 4′ plywood panel lifted into place on the side took a bit of thought. These are really heavy, and if the wind catches it, it'll blow you over. Did manage to hook up a hoist system that was bolted to the back of the board going up and over the roof. This allowed the rope to be pulled lifting the board up roughly into place, before finally being fixed into position. Will be using the same process to lift the front boards.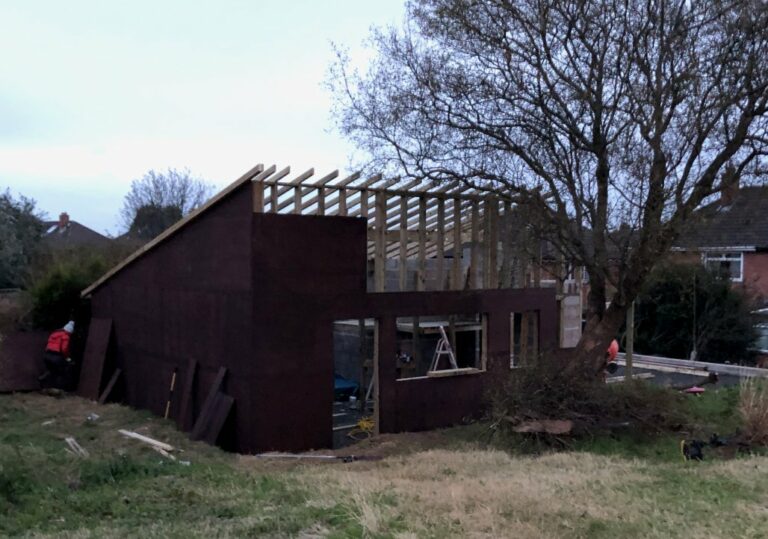 So kept on pushing through at the start of the week, and as you can see, the workshop is starting to look the part. All the panels are now in place on the side. The framing at the front has been completed along with the top plate, rafters and the front panels are now going in.
It's great to see it starting to come together. The panelling going on is now making it look more of a solid shape.
I'm going to hold off until Storm Babet has passed before continuing on, so if the rains hold off, the weekend. It'll be fun trying to get those boards up onto the roof, never mind tarring and felting.